it's about flexibility and boundaries
Written by

Ruchi Sinha, Senior Lecturer, Organisational Behaviour & Management, University of South Australia
It's hard enough juggling a job with parenthood when you've got young kids. But what do you do when social-distancing policies mean you've all been sent home?
This is the reality many families now face. Schools have been shut in Britain[1], France[2], Germany[3], South Korea[4] and all but five US states[5]. In Australia, Victoria and the Australian Capital Territory are closing schools this week, with more states likely to follow.
Read more: COVID-19: what closing schools and childcare centres would mean for parents and casual staff[6]
To entertain and home school your children while working from home is going to take self-awareness, planning, communication and technology to stop the boundaries between the work and family from fraying and ripping.
Here are six strategies to survive.
1. Be flexible
Working parents often develop routines around work (8am-4pm) and family time (4pm-8pm). Even if you prefer to stick to your routine and keep work to regular work hours, you may need to re-evaluate. The new normal is likely to involve combining greater flexibility with plans and schedules for non-standard working and family time.
To plan successfully, it is critical your know your own style and work preferences. Research shows[7] some people are "integrators", who cope well with multitasking and switching between work and personal tasks, while "segmenters" prefer to keep things separate and have strong boundaries.
Read more: Women aren't better multitaskers than men – they're just doing more work[8]
2. Make a plan
Make a daily work and childcare schedule that you, your partner and (to a large extent) your kids agree on.
It is crucial to schedule things as it gives you a realistic understanding of what is possible and what you may have to give up versus what you need to claim as essential.
Here is my personal schedule for my partner and I working from home with our six-year-old daughter.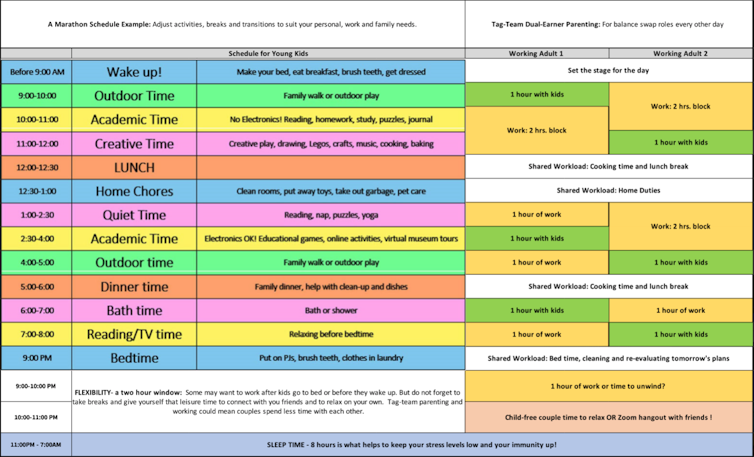 Authors: Ruchi Sinha, Senior Lecturer, Organisational Behaviour & Management, University of South Australia
Read more https://theconversation.com/6-strategies-to-juggle-work-and-young-kids-at-home-its-about-flexibility-and-boundaries-134138