Today's GDP figures won't tell us whether life is getting better -- here's what can
Written by

Kristy Muir, Professor of Social Policy / CEO, Centre for Social Impact, UNSW
We are a country that has become richer than we possibly ever could have imagined. We have had 29 years of unprecedented, world-record holding[1] economic growth.
Although economically things are a little precarious[2] in the midst of the coronavirus outbreak and our worst bushfires in recorded history, ahead of the first gross domestic product (GDP) announcement for the year, it's worth acknowledging this remarkable achievement.
But what has it meant for people's lives? The figures tell us little about whether life is getting better[3].
In 1991, the last time GDP went backwards for two consecutive quarters, 258,226 babies were born in Australia.
Samantha and Andrew
Let's call one of them Samantha, born in Bently, an area of high socioeconomic disadvantage in Western Australia, and the other Andrew, born in the suburb of Griffith in the Australian Capital Territory.
During the first two years of their lives, around one in 10 families with children were in a jobless household[4].
Andrew's parents had jobs. Samantha's didn't.
By the time Samantha and Andrew were 25, in 2016, average household disposable income was twice what it had been when they were born, even after accounting for higher prices.
Read more: Labor is right to talk about well-being, but it depends on where you live[5]
But it's not hard to see that, despite economic growth, their lives were different.
Samantha had less education, was underemployed, in housing stress and skipping meals to feed her kids. Andrew had higher education, was employed full-time, lived with high-income parents and was saving for a deposit for a place of his own.
While economic growth made us wealthier as a country, it hasn't been good for all of us.
We need a measure that sits alongside gross domestic product that tells us whether we are actually getting better off.
What matters is whether we are really better off
The idea of a broader measure of social progress isn't new – a collaboration called the Australian National Development Index[6] has been underway a few years now, and the Australian Bureau of Statistics used to publish "Measures of Australia's Progress[7]" until budget cuts in 2014.
New Zealand[8] introduced a "well-being budget" last year, targeting mental health, child welfare, Indigenous reconciliation, the environment, suicide, and homelessness, alongside traditional measures of productivity and investment.
Labor's treasury spokesman, Jim Chalmers[9], has promised[10] to do the same when Labor is next in office.
Read more: How do we measure well-being?[11]
Australia's Social Progress Index[12], launched last month by the Centre for Social Impact[13] at UNSW Sydney and the Social Progress Imperative[14] will go further, and much further than the national accounts to be released today.
It will enable the well-being and opportunities to be ranked and compared by location and time.
The online tool[15] enables anyone to explore how we are tracking on 12 components [16] grouped into three domains: basic human needs, foundations of well-being, and opportunity.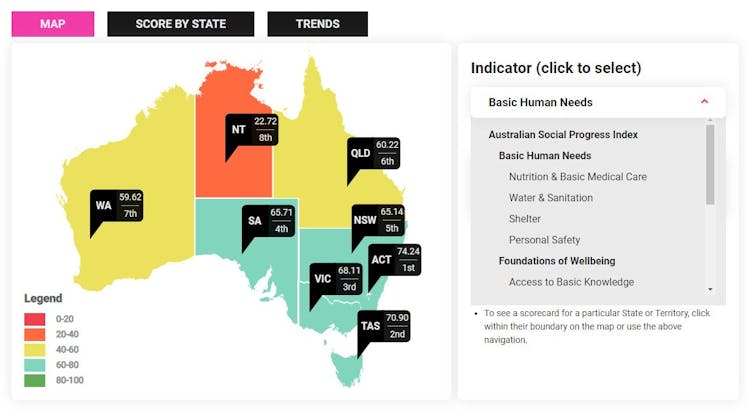 Authors: Kristy Muir, Professor of Social Policy / CEO, Centre for Social Impact, UNSW
Read more https://theconversation.com/todays-gdp-figures-wont-tell-us-whether-life-is-getting-better-heres-what-can-132739