Email culture to blame for workplace failure on #MeToo
Written by

Hannah Piterman, Professor of Practice, Deakin University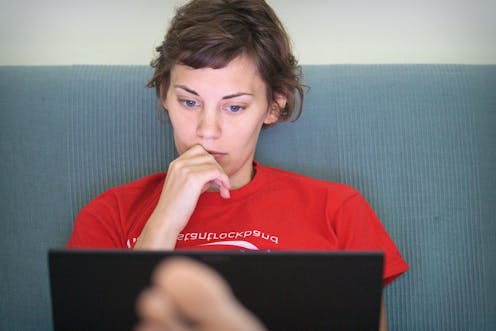 Six months after the explosive allegations of sexual harassment[1] against Hollywood producer Harvey Weinstein came to light, giving impetus to the #MeToo movement, this series looks at the aftermath of the movement, and if it has brought about lasting change to sexual harassment and gender equality.
Women are angry. The #MeToo movement has broken a deafening silence to expose Harvey Weinstein and others like him. It has shone a light on male predators who exercise their power to sexually harass, humiliate, bully, discriminate and feed off female vulnerability.
The response from workplace leaders however, has often been crude. What's required is better communication. Workplaces need safe spaces to facilitate discussion about issues that are difficult, awkward and shameful to engage with.
Last year, the Australian Football League took a bludgeoning approach after two senior managers[2] had consensual sexual relations with female staff members. This type of action, along with Prime Minister Malcolm Turnbull's "no sex" between ministers and staffers rule,[3] is unlikely to shift the status quo.
Women are still treated as second-class citizens in a country that purports to uphold equality of opportunity for all. Sexual harassment is regarded as commonplace[4] in their work environment. And it is on the rise in Australia[5]: as many as one in five women[6] in Australia report sexual violence.
In the workplace, as in society, women suffer the further indignity of being blamed for their second-class status. Their failure to progress is attributed to a lack of "executive presence"[7], a lack of "cultural fit"[8] and a failure to "lean in"[9]. These are intangible notions that target women as the problem rather than addressing the underlying structure of patriarchy.
Read more: Instead of asking women to 'fix' their choices about work, let's help them belong in a workplace[10]
Most egregious is the fact that many women remain silent in the face of ongoing discrimination, sexual harassment and violence. This in turn leads to its under-reporting. Women fear[11] they will not be believed, their testimony will be discounted, and they will be tarnished as troublemakers. They also fear their employment prospects will be threatened.
Where women have taken the brave and at times costly decision to address discrimination and harassment, they are silenced by confidentially clauses and given no guarantee there will be redress and action taken against the perpetrator. In the online world, women who lodge discrimination and harassment complaints risk being targeted by trolls, exacerbating their already harrowing experience.
Complaints against former Melbourne mayor Robert Doyle sparked widespread posts on social media as well as intense mainstream media coverage. Former councillor and complainant Tessa Sullivan was portrayed as a "party animal"[12] and photographs of her wearing a bikini were published on the front page of the Herald Sun.[13] An independent report later upheld sexual misconduct complaints[14] against Doyle.
These are complex issues, and knee-jerk responses are likely to have unintended consequences that impact negatively on women.
Women's access to quality mentoring and development from senior males, which is already low compared to their male peers, is likely to diminish[15]. As UCLA lecturer Dr Kim Elsesser, author of Sex and the Office: Women, Men and the Sex Partition That's Dividing the Workplace[16] points out, many senior male executives are reluctant to have a one-on-one meeting[17] with a junior woman, afraid that professional interest could be misinterpreted as sexual harassment.
Reactive measures may also lead to risk-averse recruitment decisions, unconscious or otherwise, that exclude women. And given men's earnings are relatively higher than women's, it is often women who will leave organisations and suffer career consequences after beginning a sexual relationship with a male coworker or boss.
The "sex ban" approach is a retrograde step that takes society back to a time when women's sexuality was shameful and their "purity" vigorously guarded. It gives cover for Michaelia Cash, former Minister for Women, to slut shame[18] women in Bill Shorten's office for the yet unproven possibility[19] that they may have been sexually active.
Read more: Turnbull's 'sex ban' speech reveals that politics is still not an equal place for women – but it is changing[20]
The sexual revolution may have given women greater licence to express their sexuality, but it did not free them from the impact of societal double standards. Nor did it create an environment for better understanding between the sexes. Rather, it created a blurring of traditional codes of etiquette between the sexes, widening the grey zone between consented seduction and sexual aggression.
Top-down draconian measures that punish men and women for acting on their sexual attraction are unlikely to expunge cultures of disrespect towards women.
Addressing more recalcitrant aspects of disrespectful cultures requires better communication and understanding between men and women. This means talking to one another about some of the stereotypes that create unrealistic expectations and undermine respectful relations.
In her recent book, "Reclaiming Conversation"[21], MIT professor Sheryl Turkle argues for meaningful face-to-face conversations, as opposed to online communication, to enable greater self-knowledge and empathy in relationships.
This is a challenge in a time-poor culture in which quality communication is on the decline. But avoiding these crucial conversations means risking continuing ignorance, misunderstanding, micro aggression and violence.
Authors: Hannah Piterman, Professor of Practice, Deakin University
Read more http://theconversation.com/email-culture-to-blame-for-workplace-failure-on-metoo-92515