China's influence in Myanmar could tip the scales towards war in the South China Sea
Written by

Htwe Htwe Thein, Associate professor, Curtin University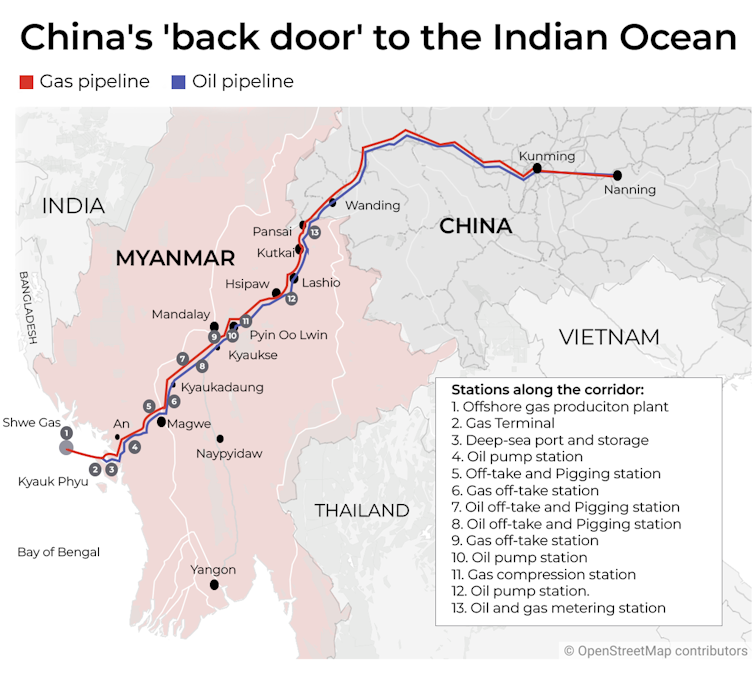 The fate of Myanmar has major implications for a free and open Indo-Pacific.
An undemocratic Myanmar serves no one's interests except China, which is consolidating its economic and strategic influence in its smaller neighbour in pursuit of its two-ocean strategy[1].
Read more: Friday essay: if growing US-China rivalry leads to 'the worst war ever', what should Australia do?[2]
Since the coup China has been – by far – the main source of foreign investment[3] in Myanmar.
This includes US$2.5 billion[4] in a gas-fired power plant to be built west of Myanmar's capital, Yangon, that will be 81% owned and operated by Chinese companies.
Among the dozens of infrastructure projects China is funding are high-speed rail links and dams. But its most strategically important investment is the China-Myanmar Economic Corridor[5], encompassing oil and gas pipelines, roads and rail links costing many tens of billions of dollars.
The corridor's "jewel in the crown" is a deep-sea port to be built at Kyaukphyu, on Myanmar's west coast, at an estimated cost of US$7 billion[6].
This will finally give China its long-desired "back door" to the Indian Ocean.
Read more https://theconversation.com/chinas-influence-in-myanmar-could-tip-the-scales-towards-war-in-the-south-china-sea-189780