Finding the Best Contact Center Automation Solution for Your Business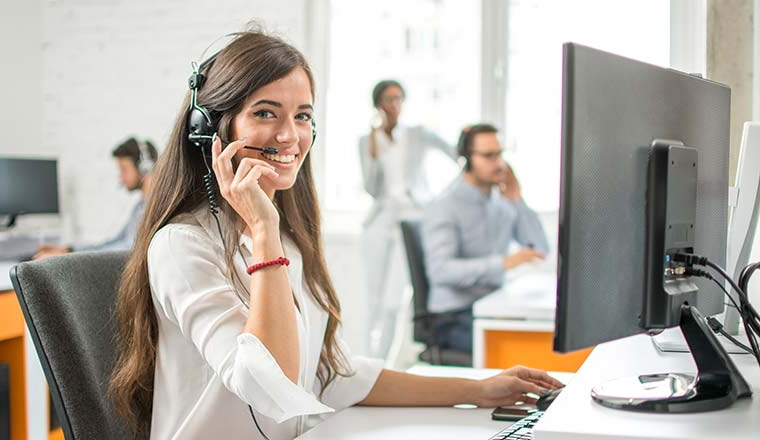 Despite the widespread deployment of modern communication technology, call centers remain critical to many businesses today. This is especially true for businesses that want to meet with their clients at every available point of contact. 
Furthermore, with the majority of customers accessing customer service by phone, the use of call center software is expected to continue to be robust in the coming years. There is a need for automation to meet the demands of the modern market. 
In the changing post-COVID-19 business scenario, the global market for Call Centers, assessed at US$404.3 billion in 2020, is anticipated to reach a revised value of US$607.6 billion by 2027, rising at a Compound Annual Growth Rate (CAGR) of 6% over the forecast period 2020-2027.
Call center automation is one type of low-code application development software that gives businesses the ability to execute processes more accurately than before at a lower cost.
If you are looking for a contact center automation solution, you probably have seen plenty of options out there. You can find the best fit for your business by considering several factors, such as the capabilities of the system and its affordability.
Why Businesses Today Need Contact Center Automation
Companies recognize customer-facing AI, boosting customer analytics and data projects (60%), growing company-facing AI (57%), and adding and/or better connecting digital channels (57%) as four essential aspects for the future contact center.
Contact center automation has become a must-have for businesses today who are looking to reap and calculate the benefits of using contact center automation solutions. 
This is because such systems are easy to use and implement. In fact, you can get a fully functional contact center up and running in no time at all without writing a single line of code.
If you want your company to be on top of its game when it comes to customer experience management, you need to know about the advantages of using contact center automation solutions:
Convenience: These platforms have been designed with ease of use in mind; they're easy enough, even for non-technical users who may not have any previous programming experience or coding knowledge. They also come packed with many advanced features that will help streamline your business processes while improving efficiency levels across the board, so there won't be any need for extensive training sessions either.
Ease of implementation: Low code contact center automation tools allow businesses, large or small alike, access top-notch customer care software without incurring high upfront costs or investing heavily into software development projects over multiple years before seeing returns on investment (ROI).

Benefits Of Call Center Automation
Typically, call centers use ticket resolution to make the best use of their human resources. Due to the cost and resource constraints, however, the increase in service requests could significantly impact the workplace.
With its flexible support systems, AI alters call center operations by using a single system to handle a variety of often-occurring circumstances. Automated call centers employ potent techniques that reduce errors in business operations and raise overall customer satisfaction. 
Businesses can utilize automated software to assign instructions and duties so that staff can work on those areas proficiently and increase client involvement so that employees can concentrate more on pressing issues. 
Businesses can reduce errors and improve operational efficiencies by using AI's pre-defined algorithms.
Automatic Scaling
Firms may scale customer service up or down depending on customer demand thanks to contact center automation, which provides a limitless capacity. This lessens the need for contact centers to scale inexpensive or cumbersome ways like hiring more employees, adding more shifts, or outsourcing.
No matter how many inquiries there are from customers, contact center automation replies to each one right away. The ability to handle both expected and unforeseen spikes in client demand is provided to contact centers. This elasticity is crucial to the ability of the modern contact center to react in a chaotic world and is a crucial element of company continuity.
Reduced Business Costs
The first thing to consider when evaluating a contact center automation solution is its ability to help you reduce your total cost of ownership. The more you can do this, the more likely it is that your investment will pay off over time. 
Here are some ways automation can reduce costs for your business:

- Reduce training costs by using self-service training modules and other online resources to train agents without requiring them to attend training sessions.

- Reduce maintenance costs by integrating ERP solutions with your contact center system so that customer data and agent performance metrics can be tracked through the entire customer lifecycle.

- Reduce management costs by automating certain tasks, such as creating new accounts or managing employee schedules, so they're completed quickly and accurately without human intervention.

- Reduce infrastructure costs by having cloud-based systems rather than on-premises infrastructure setup in your office building (you'll save money on rent).

Increased customer satisfaction
You might be surprised to hear this, but customer satisfaction is the most important metric for businesses. It's also a function of the quality of service (QoS), which in turn depends on your contact center. So what does that mean? 
It means that you can increase QoS and, therefore, customer satisfaction by automating your contact center. Up until now, you may have been focused on increasing QoS to improve customer satisfaction, and rightfully so.
Analytical Use Of Customers
Checking customer insights, the analytics' undiscovered jewel, is one of the developments in call center automation. It's simpler for agents to help consumers by offering quick fixes when they have more information and data about them.
As a result, more individualized interactions and pertinent user experiences can be provided, fostering the development of a long-lasting relationship. Businesses are eager to foresee client demands and exceed their expectations. In fact, a survey discovered that 80% of consumers were more likely to make a purchase from a brand that offered a customized experience. 
Analytics and personalization forecast upcoming problems so that agents can use software to automate the response and enhance communication at all points of contact.
Usage Of Call Center Automation Tools And Software
One of the most significant call center automation trends is the use of automated software since it effectively controls client interactions and raises customer satisfaction. 
Understanding, prioritizing, and evaluating the requirements, as well as considering product functionality and features, are all important factors in selecting automated tools and software. Tools for automation reduce wasteful spending and increase company operations' consistency, speed, and scalability.
However, there are two major issues with this approach. First, it takes time and effort. Second, it doesn't scale well. This is where automation comes in handy. Automating processes like scheduling agents and generating reports can save you time and effort while ensuring these processes are done consistently.
Contact center automation is a good solution for businesses that want to be able to provide their customers with a convenient service. Contact centers can do so much more than just take customer calls, and contact center automation makes it possible for them to do so without requiring additional human labor. That's why they are becoming more popular with businesses because they allow companies to improve their customer service while cutting costs at the same time.