More mirage than good management, MYEFO fails to hit its own targets
Written by

Danielle Wood, Program Director, Budget Policy and Institutional Reform, Grattan Institute
The Morrison government wants next year's election to be about economic management.
So understandably, it's using the improved bottom line in the Mid Year Economic and Fiscal Outlook[1] (MYEFO) to talk up its economic credentials.
But the numbers in MYEFO show it has failed to hit many of its own targets.
Target 1: Surpluses on average over the cycle
The government's overarching fiscal objective is to deliver budget surpluses: not just in one year but on average over the economic cycle.
MYEFO indicates the government is expecting a $5.2 billion deficit in 2018-19 (0.3% of GDP).
It will be the 11th consecutive deficit for the Commonwealth budget.
Deficits have averaged $33.2 billion (2.1% of GDP) over those 11 years.
Yes, a $4.1 billion surplus is forecast for next year, with surpluses projected to reach $19 billion (0.9% of GDP) by 2021-22.
But so big have the recent deficits been, that even if everything goes well and the fiscal position continues to improve, the budget would need to be in surplus for decades to produce a surplus on average over each year, far longer than what most economists consider a typical economic cycle.
Read more: MYEFO reveals billions more in revenue, $9 billion in fresh election tax cuts[2]
A related fiscal target is that budget surpluses will build to at least 1% of GDP as soon as possible.
Despite revenue windfalls from income and company taxes (discussed below), the government is still forecasting it won't reach that 1% of GDP surplus target until 2025-26.
Policy decisions in this year's budget and MYEFO – including income and company tax cuts, additional funding for independent and Catholic schools, and changes to the GST formula to placate Western Australia – have weakened the bottom line in 2021-22 by $10.5 billion.
Hardly the actions of a government in a hurry to deliver a sizeable surplus.
Verdict: Fail.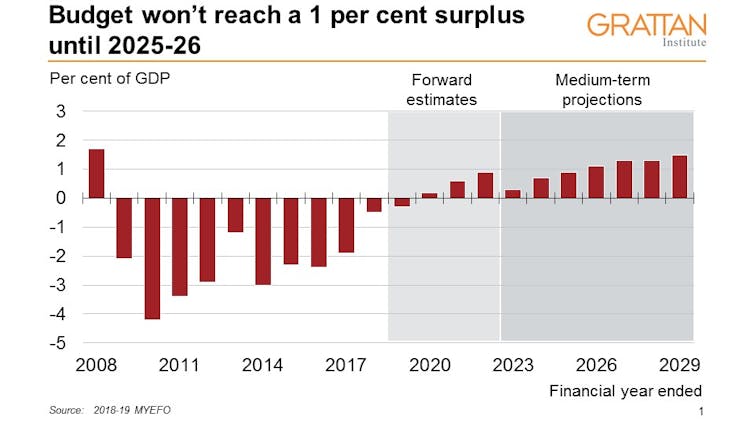 Authors: Danielle Wood, Program Director, Budget Policy and Institutional Reform, Grattan Institute
Read more http://theconversation.com/more-mirage-than-good-management-myefo-fails-to-hit-its-own-targets-108830